Ex-New Zealand high commissioner wins medal for Niue
Former New Zealand high commissioner to Niue, Mark Blumsky, has won a medal for his adopted home at the Samoa 2019 XVI Pacific Games.
Blumsky, also an ex-member of the New Zealand Parliament and mayor of the capital city, Wellington, was in the successful Niue men's triples team who won bronze on Wednesday. The team includes Dalton Tagelagi and Norman Mitimeti.
Taking a break from competing at the Lawn Bowls Greens in the Faleata Sports Complex, Blumsky expressed his surprise at his success.
Read more: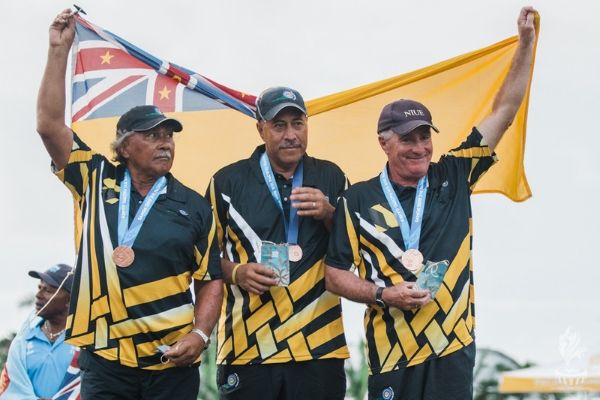 Mark Blumsky (r) on the podium with team mates Dalton Talelagi (c) and Norman Mitimeti (Image: Trina Edwards/Pacific Games News Service)
"We play on a teeny, weeny little club on a teeny, weeny little island, with a green that I mow twice a week that has a dip in it."
Blumsky, 61, has made Niue his home, and has become a Niuean citizen, after serving as New Zealand's diplomatic representative there from 2010 to 2013. "I never left," he jokes.
His wife, Pauline Rex-Blumsky, is a fellow member of Niue's lawn bowls team and has also stepped onto the podium, winning silver in the women's fours on Wednesday - putting Niue on the medal table for the first time this Games.
Blumsky said: "I'm hugely proud of Pauline, she does so much work, all the fundraising, etc."
He praised the atmosphere at Samoa 2019. "It's a huge family here," he said, gesturing to the athletes from numerous countries. "These are just the neatest people. I went to the Asia Pacific competition and that was more people and more intense. People don't laugh like they do here. Here you've got the music, we hug and kiss at the end of the day."