Fiji triumph in relay double gold as track events conclude
The Fijian anthem rang out two final times across a packed Apia Park Stadium to close the Samoa 2019 XVI Pacific Games athletics program, as Fiji spoilt PNG's party by claiming gold in both the men's and women's 4x100m relays on Friday night.
Fiji's women's team of Younis Bese, Elenani Tinai, Makereta Naulu and Heleina Young caused a huge upset in their event, out-pacing favourites PNG.
Fiji claimed gold in 45.76 seconds, PNG silver with a time of 45.97 seconds and Vanuatu settled for bronze in 50.34 seconds.
Read more: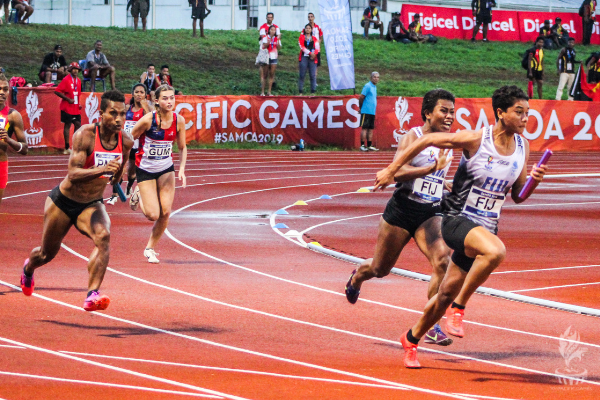 Fiji won gold in the women's and men's 4x100m relays to close an exciting week of athletics at Samoa 2019 (Credit: Pacific Games News Service)
Young, Fiji's fourth stretch runner, took the baton over the line in a thrilling race between herself and Papua New Guinea's sprint queen Toea Wisil.
"I have been waiting to get up on the podium to sing our national anthem so I would like to thank the Lord for the talent, and I am super happy," a delighted Young told the Pacific Games News Service.
"We knew PNG would be our toughest competition but we came out here, focused on ourselves, trusted ourselves and each other and we did our best and this is the outcome," Young said.
"I'm sure everyone back at home is proud of our achievement and I'd like to thank them for supporting me and the team throughout our preparation and through the hard times. I would like to thank my teammates. Their dedication and hard work have led us here to win the gold medal," she concluded.
Wisil admitted that her team ran their best, but it was not enough. "Sometimes when you run with a young team, you can only expect to do your best and not to win gold. I worked hard and did my best to win for them, but the timing would not allow me to do that, so we finished second, and that's just the way it is in sport sometimes."
Vanuatu, on the other hand, were celebrating their bronze medal, their second in relays after also finishing third in the women's 4x400-metre relay on Thursday night. "I trusted that we could win a medal and we did," said Nerry Bongnaim, the fourth stretch runner for Vanuatu.
In the men's relay, Fiji edged Samoa in a nailbiting photo finish that had the Apia Park Stadium grandstand on tenterhooks.
The fastest man in the Pacific, Fiji's Banuve Tabakaucoro, crossed the line in 40.18 seconds, eight hundredths of a second before Samoa's Jeremy Dodson with a time of 40.26 seconds. Papua New Guinea secured bronze in 41.34 seconds.
With photo requests hurled at him left, right and centre, Tabakaucoro, graciously told the Pacific Games News Service that he owed this medal, his third gold of the Games, to his teammates.
"This one is really special to me because three of my team members haven't been on the podium until now. This is my way of saying thank you to them for getting us up there where they have now experienced what it feels like to stand in number one position, so I take my hat off to the team. I couldn't have done it without them," he said.
"Everybody wants a photo because they want a piece of the victory so I'm just trying to give everybody a good memory to go home with and I'm not rushing off anywhere, so it is worth giving time back to the people who have supported us all week," he humbly said.
Fiji's second stretch runner, Tony Lemeki, made it to the podium for the first time on Friday night and he could not contain his excitement when he spoke to the Pacific Games News Service.
"I honestly feel overjoyed because this is the first time for some of us to compete at a Pacific Games, and now we are on the podium as well. To win this gold away from home is the highlight of the Games for me and we are over the moon right now. I can't believe it!" he exclaimed.
Samoa's third stretch runner, Kolone Peter Alefosio, said it was a hard but memorable finale.
"This was a tough race for us but running in front of our country on our track was special and a motivation for us," he said.
Alefosio also expressed his acknowledgement for the crowd and Samoa's supporters. "Thank you for supporting us right from the start up until now, and thank you for everything you have done for us."
PNG's Manoka John said: "We have all been working hard for months to prepare for these Games and while our goal was to win the gold, we are happy with the bronze because we went on to the track and gave it our best," he said.
The men's and women's 4x100-metre relays brought to a close a fantastic week of athletics at Samoa 2019.