Law change sees teenage Samoan take shooting gold at Pacific Games
Samoa's 19-year-old shooter has won gold at Samoa 2019 XVI Pacific Games – a feat only legally possible because of a recent law change.
The country's parliament amended firearms legislation in the run-up to the Games to allow people aged under 21 to operate a firearm – but only with permission of the police minister to participate in games.
The team's Franco Junior Caffarelli, 19, proved how worthwhile the law change was for the host nation.
He had to go to a shoot-off in the double-barrel event at Tafaigata Shooting Range with Tahiti's Tuanua Degage after a tie. Cafferelli was the first to reach 100 points, earning him the gold, with Degage having to settle for silver.
Read more: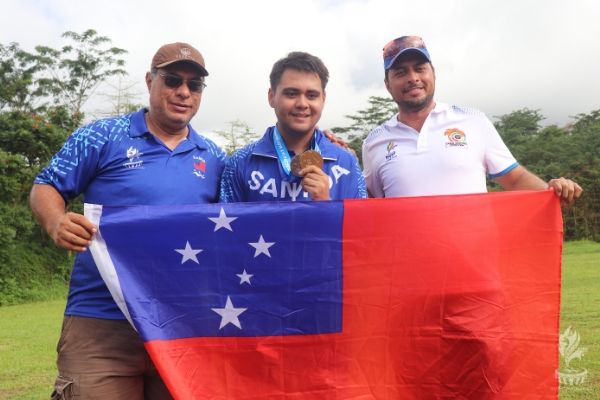 Franco Caffarelli (C) with his father Francis (L) and team member and uncle Nicholas. (Credit: Mariasole Caffarelli/Pacific Games News Service)
Caffarelli was pleased with his podium finish: "It was good. I mean, everybody else was good. I was confident and tried to keep my cool, you know, not to mess up or make my anxiety take the better of me. It's a big deal winning this gold medal. It's going to be dedicated to our double barrel discipline. And we have two more double barrel discipline tomorrow which is single and point score. I've won today's double barrel event."
The Samoan shooting team, which includes Caffarelli's father Francis, embraced their youngest member, acknowledging his efforts.
Franco Caffarelli thanked his supporters, "my family especially, my friends outside and everybody here as well at shooting team as well." And he had words of encouragement for young people to get into shooting: "Don't skip school. Train hard and passionately."
Silver medalist Degage was pleased with his result, despite shooting at the unfamiliar range. "I was very happy because the team were shooting very well. It's our first time also in Samoa, so we were a bit afraid, that's why we came for two weeks and we trained and practised for one week before the event. Each range is different."
Degage acknowledged Caffarelli's skill at a young age. "Franco is very good. It's not easy to find young people who want to do shooting, but we have to push hard to make this a sport known by the youngest."
Norfolk Island shooter Brancker South, 17, was another competitor to benefit from the law change.
Finishing 11th, he said he was happy with his result.
"I've been to a few [competitions] where the younger shooters are the best in the world because they've got the good reflexes and the good eyes. I've been shooting for six years, since I was 12, so I've got more experience from the guys of our team."
He said his youth was not a hindrance and felt the event was "definitely not intimidating".
"Everyone's friendly and it's a great sport. So, if anything it's an advantage to be younger."
In the team event for double barrel, Samoa won silver on day three of competition, scoring 295, just behind Tahiti with 298. New Caledonia took bronze with 290.
Fiji's Pacific Games 2015 gold medalist Glen Kabel won bronze in the double-barrel after a shoot-off with two Tahitian shooters.