PNG women win four golds at powerlifting
Papua New Guinea have won four golds, one silver and one bronze medal in women's powerlifting on the first half of day one of the competition at Samoa 2019 XVI Pacific Games.
PNG took gold in 47kg, 52kg, 57kg and 63kg divisions, silver in the 52kg and bronze to in the 47kg.
Neville Benson took home gold in the 47kg division, bettering her result in the same event in Port Moresby four years ago.
She lifted 90kg in the squat, 45kg bench press and 107.5kg in the deadlift, beating Nauru's Ashly Detabouw 232.5kg by 10kg.
Benson said: "I'm so proud of myself and I'm thankful to all my supporters and families out there, if it weren't for them this wouldn't have happened."
Read more: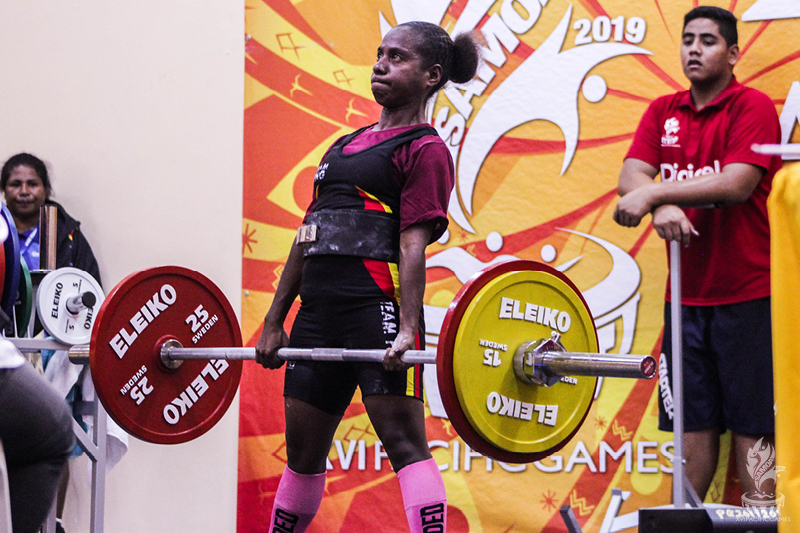 PNG's Neville Benson narrowly beat Nauru in the 47kg division (Image: Pacific Games News Service)
Detabouw however set a new Oceania record in the squat at 92.5kg, but only managed 35kg in the bench and 105kg in the deadlift.
Gold in the 52kg division was won by PNG's Dobi Konio Morea, achieving 145kg, 60kg and 140kg in squat, bench press and deadlift respectively, totalling 345kg.
Silver was taken home by Samantha Gware of PNG with 330kg, and bronze to Verana Olsson of Nauru.
Morea said: "It's such a relief to win this medal for my country."
PNG's Belinda Umang powered home with 150kg squat, 71.5kg bench press and 165kg deadlift to take the gold in 57kg division.
"I'm so happy and I can't wait to get home to show my family this medal because they are the ones that made this possible," she said.
Tahiti's Sandra Pratz took silver, and bronze went to New Caledonia's Shannon Maboumda.
Dika Gahutu rounded off the golds for PNG with a 190kg, 67.5kg and 160kg respectively in the 63kg division. She was feeling proud of her performance and happy the achievement. "Thank God for the strength and thanks to my family who made me perform well today," she said.
Silver and bronze went to Heilani Sao Yao of Tahiti and Sainimere Likuselala Abariga of Fiji respectively.
All the gold medalists are of small stature, but big of heart, and expressed how proud they were of themselves and their team to achieve this many medals.
Men's competition starts at 10am on 19 July, 2019. Entry is $5 and children aged 15 years and under are free.