Silver surprise for Vanuatu para javelin debutant
"Mi win?!" a startled Elie Enock exclaimed in Bislama as her name was called out in the waiting tent after the inaugural women's para javelin event at the Samoa 2019 XVI Pacific Games.
"Congratulations," said the technical official to Enock's surprise, as she sat in utter disbelief.
"Really? I can't believe it!" she exclaimed, still not sure that she had actually won the silver medal in the women's javelin throw ambulant on Tuesday at Apia Park Stadium, despite never having competed in the event before.
Read more: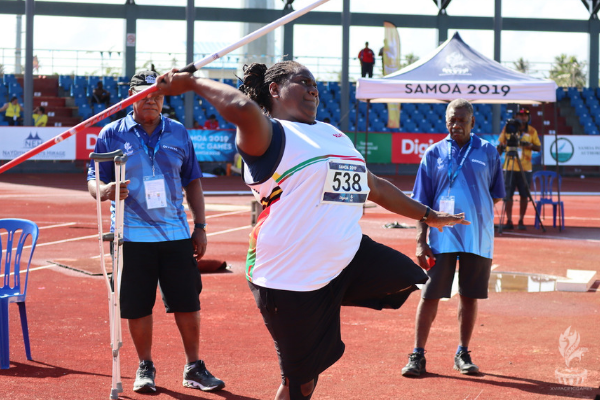 Vanuatu's Elie Enock won a surprise silver medal in her debut appearance in the women's javelin ambulant at Samoa 2019 (Credit: Pacific Games News Service)
The final results are calculated based on an athlete's throw distance and a weighting that correspondents to their para classification, and how close their throw is to the record score in that classification. This means that athletes do not know who has won medals immediately after the event, and have a nervous wait while officials calculate the final scores.
"Oh I'm so excited!" Enock said as soon as the result started sinking in.
Enock took up para athletics just over three years ago before debuting at the Vanuatu 2017 Pacific Mini Games in Port Vila where she represented Vanuatu in the women's shot put ambulant.
Despite not being new to major sports events, this is her first time competing in women's javelin throw ambulant (standing), an event she only started training for after the Arafura Games in Australia in April where she initially went to participate in shot put ambulant but ended up winning bronze in javelin throw seated.
"I only started training for the javelin throw ambulant after the Arafura Games, where I tried seated javelin for the first time and won bronze," Enock told the Pacific Games News Service.
"After winning that bronze medal, I knew that I had the potential to participate in the javelin throw ambulant, so my coach started training me for it after we returned to Vanuatu."
Enock also said that while she wanted to win a medal at these Games, she did not realistically expect to do so in javelin throw ambulant because she had so little experience.
"We come to the Pacific Games to try and win a medal, and winning a medal has been my aim all along, but I was shocked, surprised and I could not believe that I had actually won one. I am so excited that I won a medal for my country and I am proud that I am a Ni-Van," she said.
Beyond her personal joy, Enock also hopes her medal will make a difference to how people view para-athletes in Vanuatu.
"Para-athletes like me are still not taken seriously because of our disabilities, but achievements like this will allow people to see that we can also participate and achieve a lot, not just in sport but in other things as well," Enock said.
Watching from the sidelines was Enock's coach, Timothy Loughman, who could not hide his excitement and emotions at his athlete's silver medal scoop.
"I feel too excited and all I can say is that I am still in shock, mostly because I did not prepare myself for the emotions that would come with seeing one of my athletes achieve something this big. This is my first time coaching a para-athletics team and it has been a challenge for me because coaching able-bodied athletes is completely different from coaching a para-athlete.
"There are different challenges but, as coach, my biggest challenge with coaching para-athletes is getting them to believe in their abilities to achieve something in sport.
"Although I know the challenges won't stop, I believe in my athletes, and my favourite thing about them is that, even though they question themselves at times, they are still willing to learn as much as they can and that is all I can ask for," Loughman said.
With Vanuatu's para-athletes expected to bring more medal joy to their country over the remaining days of the Games, Enock believes has one important message for people who are living with a disability and are interested in sport.
"If I can do it then you can do it," she said with a smile. "You just have to think positive at all times that you can do it, and you will achieve anything you set your mind to."
Enock will also be competing in the women's shot put ambulant on Friday 19 July at Apia Park Stadium.