Surge in 1500m sees Guam take silver from PNG
Papua New Guinea was thwarted from filling all three spots on the podium for the women's 1500m when Guam made a surge to overtake and claim silver at the Samoa 2019 XVI Pacific Games.
Michlyn Poro Gahekave of Papua New Guinea took gold with a time of 4 minutes 42.04.
She was a picture of power and endurance, confidently taking the lead and lapping her competition with ease on her way to the finish line.
In her wake, fellow PNG athletes Jenny Albert and Lyanne Tibu kept a steady pace, setting up what seemed to be another full podium finish for PNG.
But in an unexpected turn of events, Genina Georgette Piolo Criss of Guam surged forward with a final burst of energy, overtaking Albert in the last 150m to finish second.
Read more: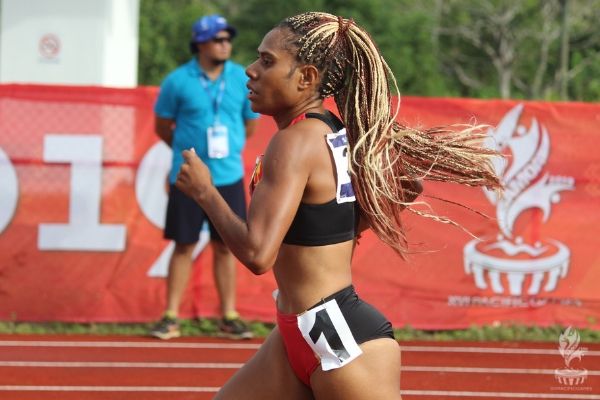 After the race Criss said she struggled in the first 800m as she began to fall behind the pack.
"Then I heard my team manager on the sideline say 'You're stronger than that, you can do this, you're stronger than that'. I didn't know if I could do it, but hearing those words, I remembered all the hard work that I put in. I decided to trust in myself and leave everything on the track."
She expressed joyous disbelief at her own achievement, calling the race a humbling experience
with all thanks going to God and her supportive family.
Although surprised by Criss' change in speed, bronze medallist Tibu did not let it break her focus and the pair finished with a mere 1.68 seconds between them.
"It felt great because this was my first Pacific Games and my first time competing in a big competition. I'm proud to complete my race."
In another unexpected podium finishes, long distance fan favourites from Papua New Guinea were unable to take the gold in the men's 5000m.
Instead settling for bronze, with James Kuadua Gundu coming in third (15:57.00). Avikash Lal and Stephen Edward Sanday from Fiji took the lead by a wide margin in the first five laps, but over time they began to tire, allowing Samuel Aragaw of Tahiti to steadily rise up through the ranks and snatch gold at 15 minutes and 45.54 seconds.
"I'm really surprised because we all know that PNG are really strong in this event," Aragaw said.
He congratulated Lal for taking silver with a finishing time of 15:49.93. When questioned about the race, La said was in no way expecting to get a medal and that despite it being silver, it meant as much as a gold in his eyes.
Lal comes from a farming background and dedicates his success to the hardwork of his family.
"It's a great motivation for me that I come from a farming background. Looking at my mum and dad, they wake up every morning at 3am to help cook for me and then go and work on the farm while I train. Without any sponsors or anyone else to help me, I'd like to tell my family back at home, that this silver medal is all for you."