Tahiti to face New Caledonia in Women's Volleyball gold medal match
Two power houses of Pacific Island Women's Volleyball will square off in Friday's final on centre court after a dramatic day at the National University of Samoa Gymnasium.
Tahiti will play New Caledonia in a keenly anticipated match for gold and silver at 7pm.
The curtain raiser for bronze will be at 5pm between Samoa and the squad from Wallis and Futuna
On Thursday, the host nation was stunned by a rampant Team Tahiti who were too strong winning in 3 sets leaving Samoan supporters shocked at the result — 25-12, 25-14, 25-11.
Earlier, New Caledonia's path to the final was even more straightforward, winning by default after Wallis and Futuna failed to show.
Read more: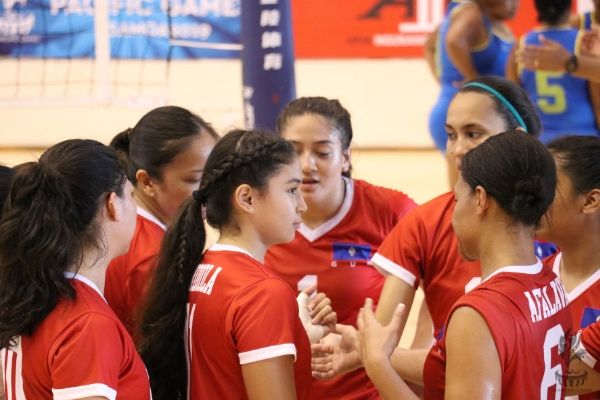 The Women's Volleyball team from Guam will play of for 6th and 7th against the Solomon Islands (Fale Siaosi/Pacific Games News)
It's going to be another big day at the Volleyball after a week-long tournament that has set the heart racing.
The schedule on Friday opens at 9am with Men's placing Finals - Kiribati v Tuvalu for 7th and 8th followed at 11am by Papua New Guinea taking on American Samoa for 5th and 6th.
Also at 11am, the women from the Solomon Islands will play Guam to determine 6th and 7th.
Then, on Saturday morning on the final day of the Samoa 2019 Pacific Games, the Men's medals will be decided.
At 9am, New Caledonia will play Samoa for bronze, then at 11am it's Tahiti against Wallis and Futuna to determine the gold and silver medalists.