Tonga soar to gold and silver in men's hurdles
Tonga's Mosese Foliaki and Talatala oe Toetu Po'oi shocked the field in the men's 110m hurdles at the Samoa 2019 XVI Pacific Games on Thursday, snatching gold and silver in a thrilling final.
Foliaki streaked along the rain-sodden track in 14.52 seconds, closely followed by Po'oi in 14.55 seconds. Samoa's Kolone Peter Alefosio collected bronze, finishing in 14.88 seconds.
"I'm just so happy to win gold for my country," a tearful Foliaki told the Pacific Games News Service.
Read more: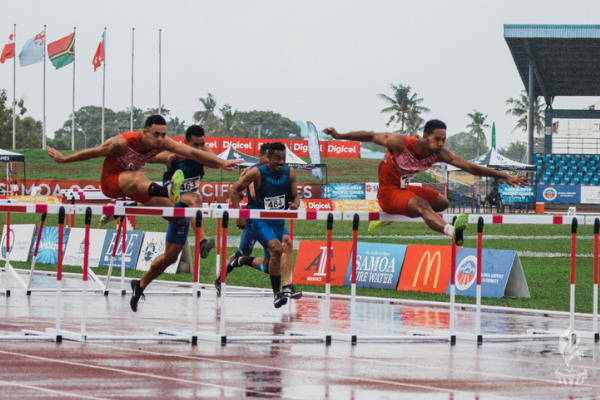 Tonga raced to gold and silver in the men's 110m hurdles (Credit: Pacific Games News Service)
Samoa's bronze medalist was also delighted with the result. "I am really excited and looking forward to the next stage. I need to train hard and prepare myself for whatever competitions come next."
The podium had an entirely different look to the last Pacific Games, Port Moresby 2015, in which athletes from Tahiti, New Caledonia and Papua New Guinea scooped the honours.
In the women's 100m hurdles, Australia's Brianna Beahan won gold in 13.17 seconds, setting a new Pacific Games record in the process. Papua New Guinea's Adrine Monagi claimed silver in 13.99 seconds while New Caledonia's Esther Wejieme finished in 14.25 seconds to collect bronze.
"I am very happy with gold," a delighted Beahan told the Pacific Games News Service. "I was hoping for a little bit faster, to be honest with you the condition wasn't perfect and also warm…it's not like home. So I executed my race as well as I wanted to, but I am little disappointed as I didn't get the time I expected but, as whole, I am very happy with the race."
The Australian also revealed how much she is enjoying the Games. "I'm just having the best time here in Samoa," she beamed. "Everyone is so loving and kind. It's a different feeling out here, everyone so humble and kind, they wanted to help everyone. And that takes away the feeling of competition and people just want to have fun with it. So yeah, it's amazing."
Monagi said she was satisfied with silver: "I felt pretty good. I wanted to get a good time, which was the main point of coming here, but we had a great competition".
Athletics concludes on Friday at Apia Park Stadium with a packed day of action from 2.30pm onwards. Entry is $5 or free for children under 15.