Tonga's badminton revolution bearing fruit at Samoa 2019
Competing at the Samoa 2019 XVI Pacific Games has been a transformative experience for Tonga's fledgling badminton team.
Their squad of eight, one of whom celebrated her fifteenth birthday as she played her final match on Friday, represent a new generation of athletes in a sport that was unknown in the Pacific kingdom a decade ago.
But, gradually, badminton is taking hold in Tonga, thanks to Badminton World Federation's Shuttle Time development program, introduced to Tonga in 2013, and funded by the Australian government through the Pacific Sports Partnerships since 2015.
Read more: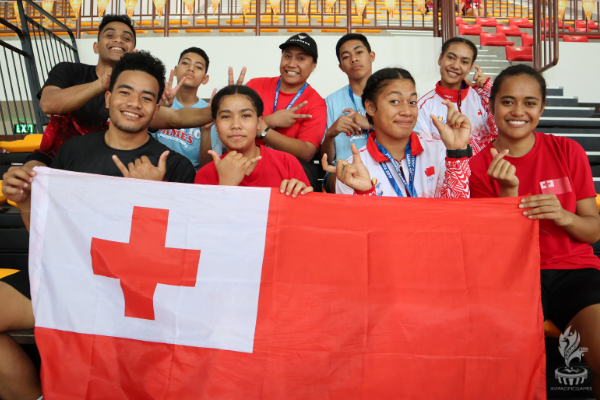 Tonga badminton coach MaryJane Sifa has seen her young team improve remarkably at Samoa 2019 (Credit: Pacific Games News Service)
The program is responsible for introducing hundreds of young people to badminton, supporting talented players with additional funding, knowledge and resources, developing Tonga's national badminton federation, and training a pioneering cohort of Tongan coaches.
One of those is MaryJane Sifa, who is coaching the eight Tongan youngsters competing at Samoa 2019, the biggest badminton team Tonga has brought to a Pacific Games.
She has guided them to fourth place in the mixed team event, and four of them to quarter finals in the individual events, making them among only a handful of players outside the top three nations (Fiji, New Caledonia and Tahiti) to progress that far.
"We didn't know how we would get on here but to rank fourth in the mixed team event is a big improvement for our kids in Tonga," Sifa enthused. "Hopefully next time we'll develop our team and teach more techniques to the kids to improve their performance.
"This is history for them. It's their first time in the Pacific Games and, because they are spread across different schools in Tonga, they will go home tell this story to their friends across Tonga, of what badminton has given them, to travel, to play here and to experience life through badminton. I know that this experience has set it in their mind that, one day, badminton will be a career for them."
With many of the players only picking up a racquet for the first time less than four years ago, it has been a rapid journey to the international stage.
"I am so happy to be here," said birthday girl Lata Isitolo, who bowed out in the women's doubles quarter finals alongside Litea Tatafu on Friday. "This is my first time representing Tonga in the Pacific Games and I hope to get a medal at these Games one day before I retire."
In the men's events, Renaey Naaniumotu reached the quarter finals of the men's singles and the men's doubles with his brother Lauti Naaniumotu, and Sipa believes their performance in particular will have an impact back home.
"People in Tonga think badminton is a sport for girls only, they don't realise that boys can play," she revealed. "But I know that many people back in Tonga have been watching us in these Games, and I think that will inspire people to join us, both males and females."
And while Tonga's male players are changing perceptions, so is Sipa herself, as the only female badminton coach from any nation at the Games.
"I'd like to encourage more female coaches," she admitted. "I'm the only one here so I'd like to show females that we can do what men can do, and we can challenge boys for coaching roles. It doesn't always have to be men coaching, women can do it too."
Badminton concludes on Saturday 13 July at Multi Sport Centre Faleata. The action begins at 9am and entry is free.