From heavyweight to Pacific Games judoka
Guam's Amy Cho never imagined she would be a Pacific Games bronze medal finalist when she stood on the scales a year ago.
Cho, a 32-year-old auditor by profession, was inspired by her boss (a black belt in judo) to give the sport a go just over a year ago, and has now competed at Samoa 2019 in Apia.
Cho was at her heaviest, weighing in at over 87kg, when she went into the dojo for the first time.
She laughs as she recalls that she didn't even make it past the warm-up that first day, but Cho credits her sensei's teaching and her persistent effort to keep trying, which resulted in a massive transformation.
She lost just over 24kg to get into the women's under 63kg weight division.
Read more: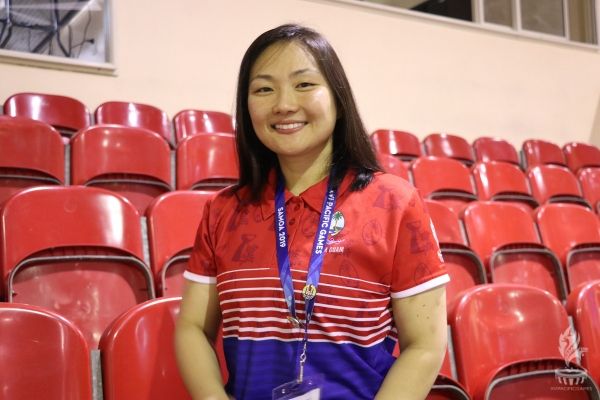 Amy Cho never thought she'd get to the Pacific Games. (Image: Pacific Games News Service)
Cho was selected as the only female judo athlete to compete for Guam.
Joshter Andrew, a professional judo competitor who won gold in the men's U81kg division at the Games, is the only other competitor representing Guam in judo.
Despite Samoa 2019 being Cho's first Pacific Games, she managed to come away with one win and one loss, before being ousted from the competition after losing in her bronze medal final.
The gold went to Fiji's Nathalyn Takayawa, silver to Tahiti's Teipoteani Tevenino and bronze jointly to Tahiti's Teraimatuatini Bopp and New Caledonia's Maiwen Mezieres.
Cho said she was content that she achieved what she set out to do, being aggressive and not giving away any penalties for not being combative.
"I am proud of how I performed," she told the Pacific Games News Service.
"A year ago I didn't think I would make it this far.
"I'm 32 and I just started this sport at 31 years old, and never in my entire life did I ever imagine this is where I would be. It's a really surreal feeling and not enough words in my vocabulary to describe how honoured and how proud I feel."
Cho's message to those who want to get into sport, whatever age or ability is: "Get out and do it – so long as there is effort, there is progression."
She continued: "It might not go well the first time but if you love it just keep doing it. It's about trying to do better and be better than the person you were before."
On day two of judo she has the luxury of being able to relax and soak up the atmosphere and experience sitting in the stands and observing the other athletes.