Local girl wins seven golds in weightlifting
Young Samoan weightlifter Leotina Petelo has won seven gold medals, adding to the host nation's medal haul at Samoa 2019 XVI Pacific Games.
Petelo, 17, lifted 199kg to win gold in the women's 81kg for the Pacific Games, gold for Oceania championships (junior and seniors), gold for the Commonwealth championship (junior and seniors) and gold for both snatch, and clean and jerk to receive seven gold medals.
Bernadette Igo Noi, in Papua New Guinea, took silver with a lift of 164kg, and Ariana Uepa of Nauru won bronze with 162kg.
A tearful Petelo said she was proud to represent her country and her school, Faleata College, close to the venue of her medal-winning lifts.
Read more: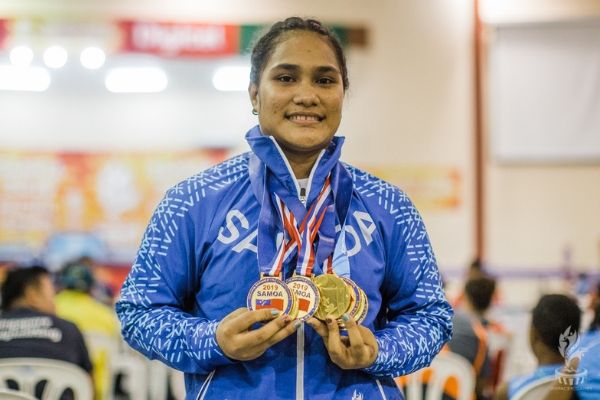 Leotina Petelo with her seven medals won in one day. (Image: Trina Edwards/Pacific Games News Service)
"I'm crying because this is the first time that I have experienced this type of feeling, my first time representing Samoa and winning gold for my nation at just 17 years old."
She added: "I would like to thank my coach, parents and team mates for the support and the whole nation for their prayers."
Her team mate Don Opeloge, of Samoa, later won gold in the men's 89kg division with a lift of 338kg.
Opeloge, the current world junior champion, did not disappoint local fans.
"My coach inspired and pushed me to my limits, and for that I owe him this win," he said.
When asked about his weak starting lifts for snatch and clean and jerk where he failed to complete, he said: "I was a bit nervous but my coach pushed me, plus hearing Samoans cheering out loud gave me the motivation to do better."
Opeloge won seven gold for being the Pacific Games Champion, the Oceania (Junior & Seniors) Champion, the Commonwealth (Junior & Seniors) Champion and gold medalist for the men's 89kg snatch and clean & jerk category.
Boris Elesin of Australia took silver with 308kg and his team mate Joel Stephen Gregson bronze with 288kg.
In the men's 81kg, New Zealander Cameron McTaggart impressed the crowd by winning gold in the overall category with a total of 305kg, out-lifting the favourite Jack Opeloge of Samoa, who Samoans had hoped would win.
Opeloge had to settle for silver with a total of 298kg, while Kabuati Bob Silas of Marshall Islands claimed bronze with 288kg.
When McTaggart was asked about his performance, he said: "It was awesome and I'm very excited that I have won gold for NZ."
Apia's hot and humid weather had proved a challenge for McTaggart.
"It's the weather - training and preparing for these Games in the cold only to come here and face the heat," he said on Thursday in Apia's 29degC
McTaggart also went on to win gold for Oceania championship, while Opeloge and his total lift of 298kg set a new junior Oceania record.
For the women's 87kg, Kaitlyn Jade Judge Fassina (Australia) won gold in the overall category with a lift of 220kg. Lorraine Henao Harry (PNG) won silver with a lift of 192kg while Tiaterenga Koua (Kiribati) won bronze with a total weight of 166kg.
Fassina also went on to become the Oceania gold medalist 2019 in the seniors division.